Who can use this?
Users: Pro, Enterprise (only admins)
Managed from: Admin Dashboard
This article will explain how you can invite users to your team one by one or in bulk.
You can invite users to your team from three places:
For all the cases, here are the steps to follow:
Add emails by dividing them by comma, space, or enter.


When done, click Send email invites.
Info
You cannot invite more teammates than the number of your currently unassigned seats.
You can invite multiple users to your team at once by importing a CSV file with the email addresses. That can be done from three places:
For all of the cases, here are the steps to follow:
Click Add emails from CSV.


Upload the CSV file.


The invitations will be sent out to valid email addresses. You can go to the Users section of the Admin Dashboard and check which state of joining process the users are in.
If an email address included in the file is already added to your team, the system will skip it. The same email address won't take up a second seat.
If you have fewer unassigned seats than the email addresses included in the file, the system will give you a warning and suggest adding seats to the team. After adding more seats you should upload the file once again.
Info
Sending and delivering bulk email invites may take some time, so expect some delay in receiving the emails.
Info
This option is available only for the
Enterprise
plan.
You can find and invite users with your company domain to join your team. For that, first, you need to verify your domain as mentioned in this article.
Then, on the Team users page, you'll see the number of users with your corporate domain that use Krisp out of your team.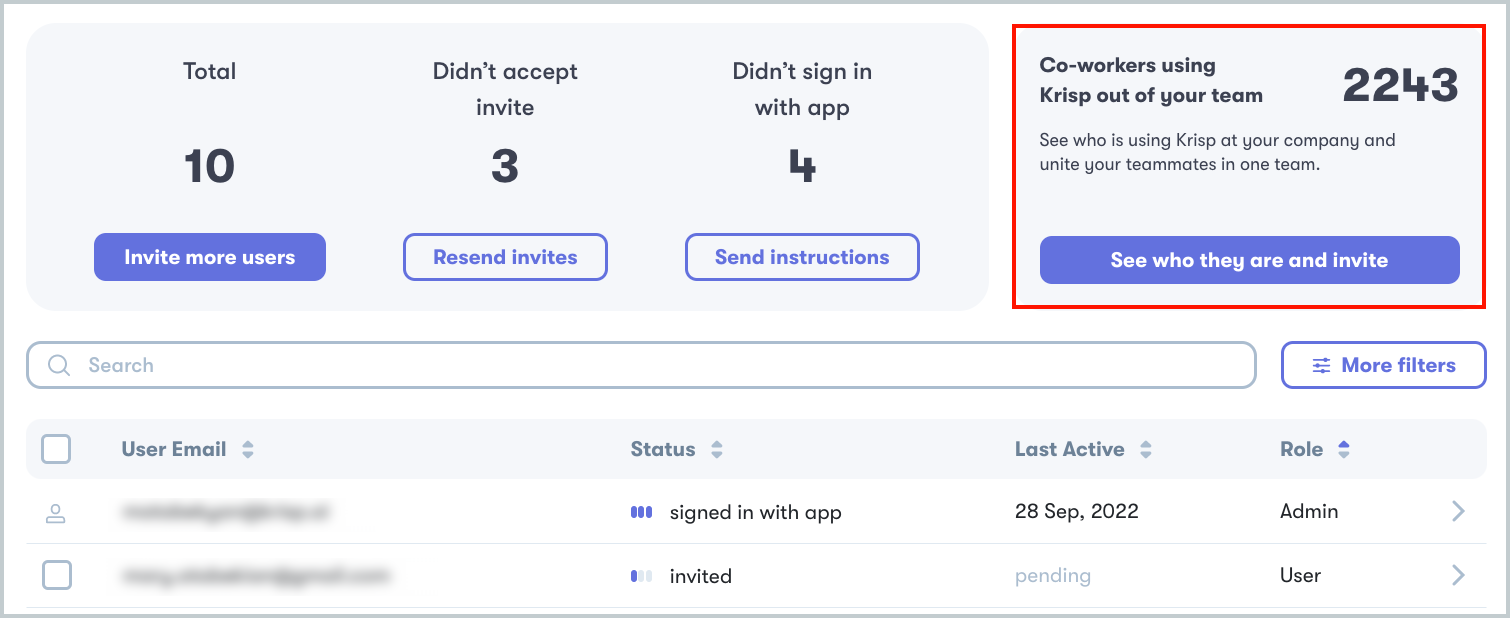 Click See who they are and invite to see the full list of the users and invite them to your team.
Once selected the users, you can send them an invitation to join your team. The users will get an invitation email. After accepting/rejecting the invitation you'll receive an email as well.