Who can use this feature?
Plan: Enterprise (only admins)
Platform: Mac, Windows, Web
Managed from: Admin Dashboard
The Enforce SSO option can be enabled from Settings >>> Security >>> Authentication section of the Admin Dashboard.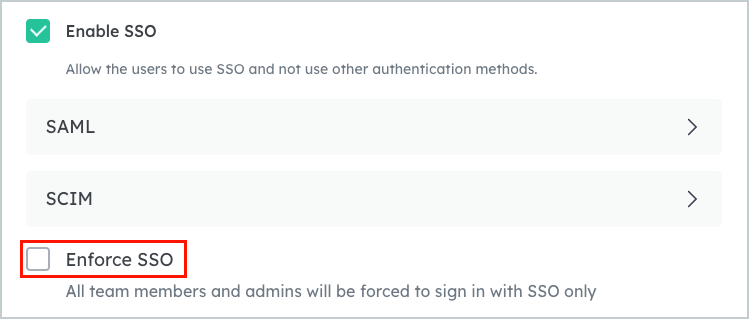 There are a few things you should know before enabling the Enforce SSO option.
If the option is enabled:
All the team members and admins will be forced to sign in with SSO only. The email login with the verification code will not be possible for any team member.
You won't be able to assign any users to your team from inside the Krisp dashboard. The assignments should be done through the Identity Provider.
When logged in to the Enforce SSO team, you won't see any other accounts that are linked to the same email address. As a result, you won't be able to switch between them.
Likewise, you won't see the Enforce SSO team when logged into other accounts and won't be able to switch to that team.