Who can use this feature?
Users: users on all plans
Platform: Mac, Windows
Admin control for the feature: from Business plan
We recommend using the most recent version of Krisp for the best experience. This article shows how to check your Krisp app version and update it to the latest version.
To see which Krisp version you are using, follow these steps:
Click the three-dot menu from the right side of the Krisp app.
Click About.
On the opened window you'll see your Krisp app version.
Here is how you can update your Krisp app to the latest version:
Click the three-dot menu from the right side of the Krisp app.
Click Check for Update.
On the opened window click Update if there is a new version available. Otherwise, you'll see that your Krisp app is up-to-date.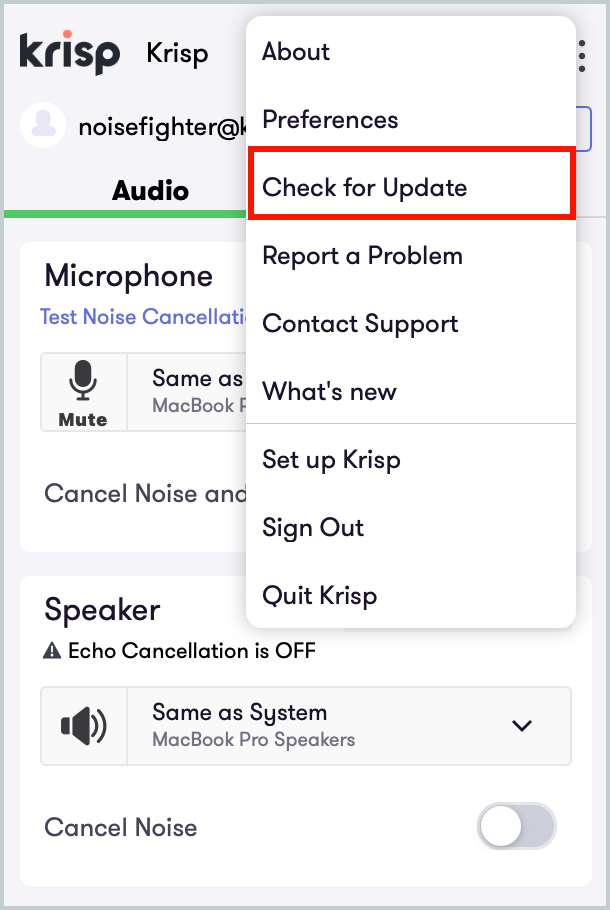 Info
When an update is available, you will see a red dot icon on the bottom of the app saying
Update is available
. You can click
Update
and update your app from there.
The team admin can decide, whether the team users can update their app version or see a new app version. The option is enabled by default.
To control the option:
Go to your Admin Dashboard on account.krisp.ai.

Go to the Team Settings page >>> General configuration.

Check/uncheck the Check for update box.
If you uncheck this box, the "Check for Update " option will be hidden from the 3-dot menu of the Krisp app for all the team members. Any new updates won't show up for them and they won't be able to go to newer versions of the app themselves. Also, the users won't receive notifications about new updates.