Who can use this?
Users: users on all plans
Platform: Windows, Mac
To ensure that Krisp is active and it's removing noise during meetings, pay attention to these indicators:
Krisp icon is in an active state. Check the icon states

here

.

The communication app where Krisp is used is indicated in the Krisp app.
The remove noise toggles are turned on.

The green soundbar for the Krisp Microphone is moving as you speak.
These indicators on the Widget will also hint that Krisp is working and the noise is being canceled during the stream:
The communication app where Krisp is working is indicated on the Widget.
The Remove Noise toggle for the microphone is turned on.
The Krisp Microphone soundbar is moving as you speak and is green.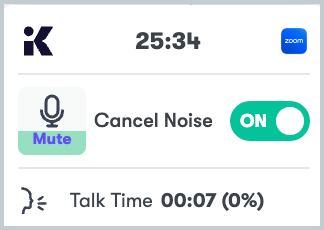 Hint
These indicators show up only when there is an active stream. Make a test call with someone or go to the audio settings of the communication app to check the indicators out.