Who can use this?
Users: users on Free, Pro plans
From version: Krisp 2.0.0
Info
To learn more about how Krisp provides concise transcripts of your meetings and creates in-depth meeting notes, check out the
AI Meeting Assistant
article.
Krisp asks for calendar access to enhance the accuracy and convenience of Transcripts and Meeting Notes.
If you are a newly signed-up user, you'll be asked to connect your calendar after you click Sign in with browser in the Krisp app: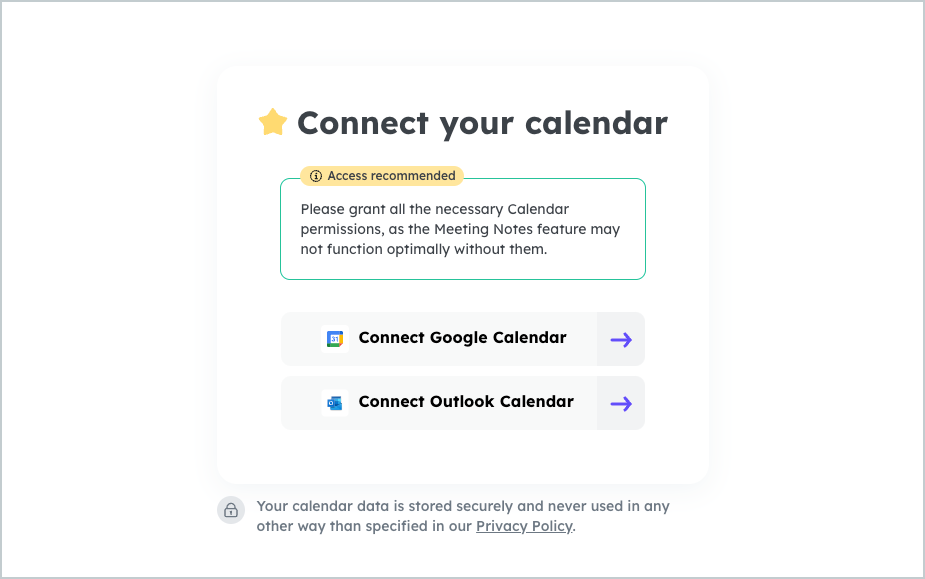 Krisp asks for the following calendar accesses:
Calendar events: By accessing your calendar events, Krisp can match the meeting date/time with the date/time of the Transcripts, and use the calendar meeting name as the Transcript name. This helps you to identify the correct Transcript and keep track of your meetings.
Contacts and Directory: Krisp can detect that there are different people speaking during the call. But, it doesn't know speaker names. By getting access to the contacts or directory of the user, Krisp can replace generic labels like "Speaker 1, 2, etc." with real names. For now, it applies only to 1:1 meetings. This helps the user to identify who said what during the meeting.
Info
To ensure your Meeting Notes and Transcripts are reflective of your industry-specific terminologies, we recommend creating your custom vocabulary. Check out more about the feature in
this article
.