Who can use this?
Users: users on Free, Pro plans
From version: Mac 2.0.0, Windows 2.0.0
Krisp AI Meeting Assistant allows you to focus on the conversation without worrying about taking extensive notes. It consists of 2 main features: Transcripts and Meeting Notes.
Transcripts are written records of a conversation or meeting. Meeting Notes, on the other hand, are concise summaries of a meeting's main points, action items, and discussion items. This article explains how you can install and use Krisp Meeting Notes and Transcripts.
To use Meeting Notes and Transcripts, follow these steps:
Download Krisp from the

Download the app

page.
As soon as Krisp is installed, you'll see Meeting Notes feature package downloading.
After the package download is completed, select both Krisp Speaker and Krisp Microphone in your communication app.
Toggle Transcription ON in the Krisp app. Transcription will work even if Krisp Microphone/Speaker toggles are OFF or you run out of free Noise Cancellation minutes.
Important
Transcripts
and
Meeting Notes
are based on audio from Krisp Microphone and Speaker. Selecting both Krisp Microphone and Krisp Speaker ensures including all speakers in the Transcripts. Skipping
Krisp Speaker
means only your speech is included, resulting in incomplete Transcripts and Meeting Notes.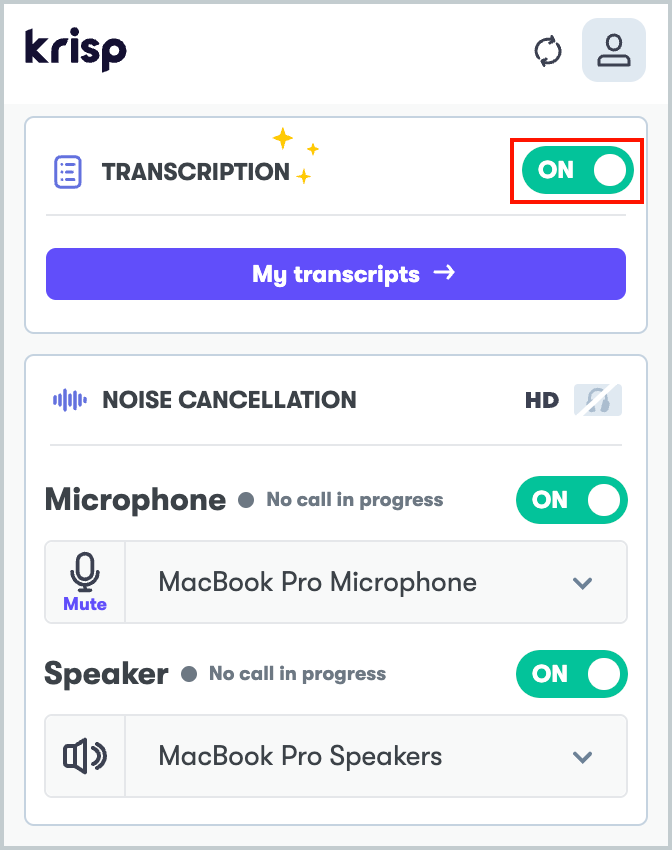 Hint
Before starting a meeting with Transcription enabled, we recommend informing all the meeting participants that the meeting will be transcribed.
Check
Krisp Security
page for more security and privacy-related questions.
Once these steps are completed, you can sit back and let Krisp do the work.
Info
You should have at least a 5-minute call with a 1-minute accumulative speech to get a transcript after the call.
AI Meeting Assistant supports only English speech. Transcripts and Meeting Notes won't give proper results if the meeting is held in any other language.
You will get a notification a few seconds after the call informing you that the Transcript is ready. You can choose to View Meeting Transcript or Summarize to generate Meeting Notes with your default template.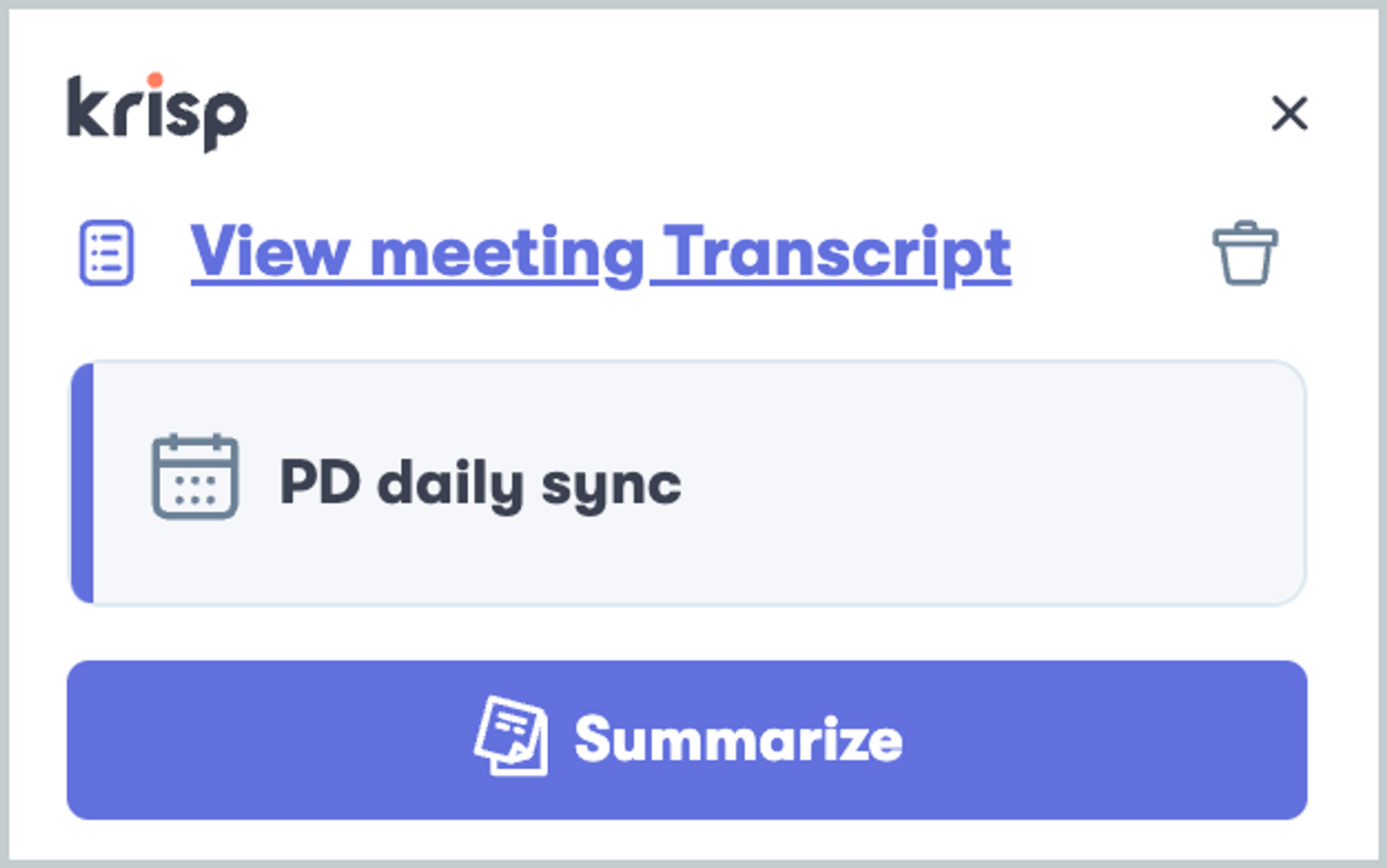 Info
You can change your default Meeting Notes template from the Meeting Notes Page on the Account dashboard.
If you take no action, you can access the Transcript from your Account dashboard's Meeting Notes page and generate Meeting Notes from there.
You can access the Meeting Notes page from the left sidebar of your Account dashboard.
There you can find all your Transcripts and already generated Meeting Notes with dates and call durations.
To generate Meeting Notes from your Transcripts, select the Transcript and click Generate notes. Choose the template you prefer and click Generate Note. You can choose one of these templates as your default for all your Meeting Notes.
As soon as your notes are generated, you will have the option to add action items. For that, click Add action items on your Notes page. The action items will be added above your Meeting Notes:
Info
There are no quantitative limitations for both Free and Pro plan users when it comes to adding action items.

Meeting Notes are available in two templates:
Short Summary: provides an agenda of topics for further discussion.
Detailed Summary: provides an extended list of the details discussed during the call.
You can regenerate Meeting Notes by choosing a different or the same template again.
Info
If you regenerate your Meeting Notes after adding action items, you will need to re-add action items specifically for those regenerated notes.

Info
Free users have a balance of 2 Notes per day. Regenerating a Note with the same or different template takes one credit from the balance.
You can perform the following actions with your Meeting Notes and Transcripts
Filter Transcripts - Filter the Transcripts that have generated Notes as well as apply a date range on the filtration.
Change speakers' names - By clicking on the speaker's name, you can change it in the Transcript to make the Transcript more accurate. You can select from the suggested list of meeting participants or assign custom names as desired.
Download Transcript - The downloaded .TXT file will contain the timestamps and speech of each speaker.
Edit Note - Modify the generated Note with basic editing tools.



Share Note

- Generate a public link to open the Note in the browser. The little green icon will indicate your note is shared and public. You can revoke access to your Note by unsharing it.



Copy Note - The copied Note contains the text of the Note and a public link to it.

Info

Copying the Note makes it public. Make sure to Unshare it if you don't intend to keep it public.

Delete Transcript and Note - Deleting the Transcript and the Note is an irrevocable action. They cannot be recovered in any way.
Meeting Notes and Transcripts are available for Free and Pro plan users.
All Free plan users have unlimited Transcripts availability and can generate 2 Meeting Notes per day for free.
Info
Regenerating a Note with the same or different template takes one credit from the Notes balance.
All Pro plan users have unlimited Transcripts and Meeting Notes availability.
Krisp asks for calendar access to enhance the accuracy and convenience of Transcripts and Meeting Notes.
If you are a newly signed-up user, you'll be asked to connect your calendar after you click Sign in with browser in the Krisp app: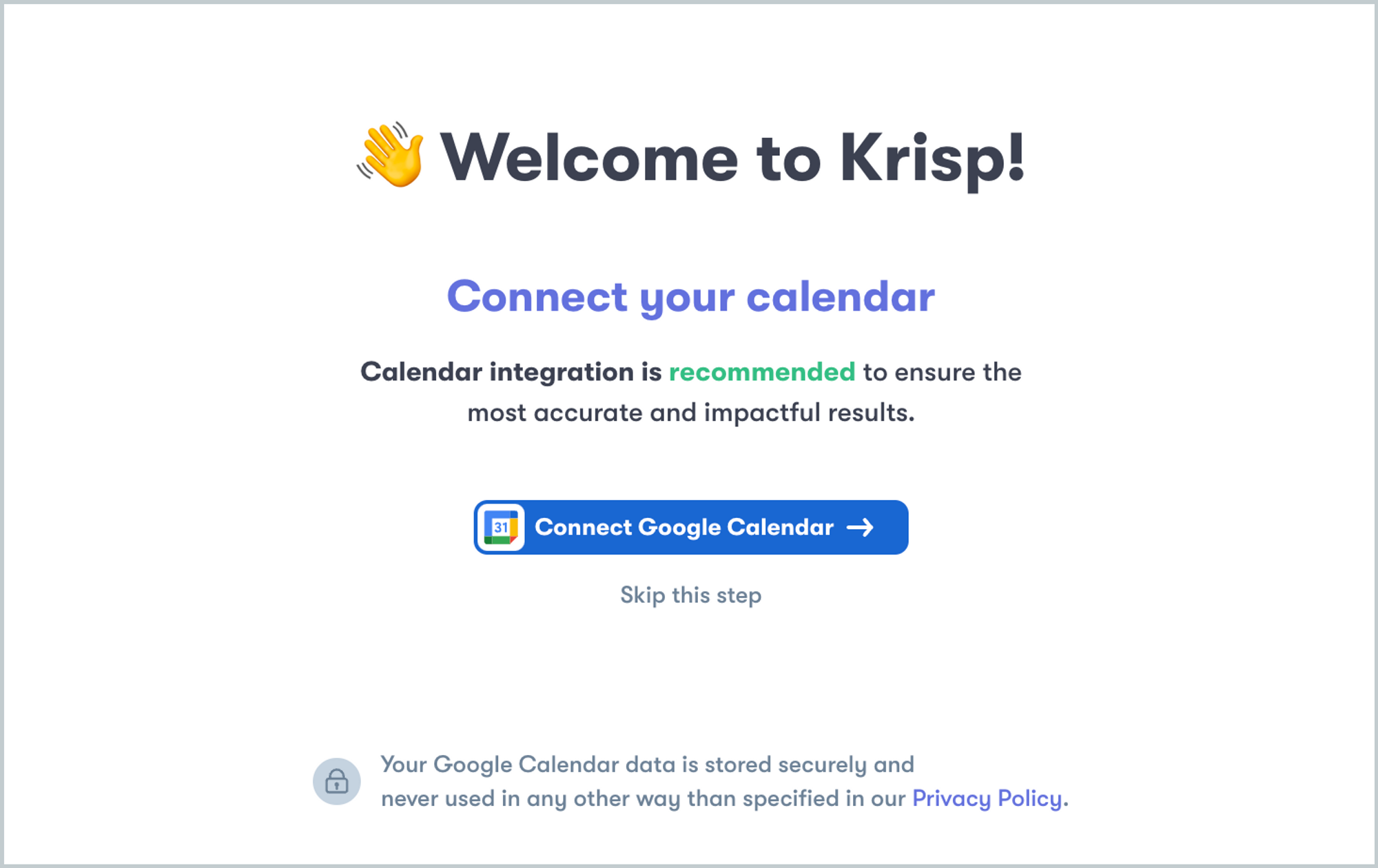 If you decide to skip this step, you will be able to connect your calendar anytime from the left panel of your Account dashboard:

Krisp asks for the following calendar accesses:
Calendar events: By accessing your calendar events, Krisp can match the meeting date/time with the date/time of the Transcripts, and use the calendar meeting name as the Transcript name. This helps you to identify the correct Transcript and keep track of your meetings.
Contacts and Directory: Krisp can detect that there are different people speaking during the call. But, it doesn't know speaker names. By getting access to the contacts or directory of the user, Krisp can replace generic labels like "Speaker 1, 2, etc." with real names. For now, it applies only to 1:1 meetings. This helps the user to identify who said what during the meeting.