Who can face this issue?
Users: users on all plans
Platform: Mac
Sometimes the first-time installation or the update of Krisp desktop app might fail on your Mac device. Some of the common installation issues and their resolutions can be found below.


Mac's built-in security might prevent some apps, like Krisp, from opening if they're from unidentified developers.
The installer might fail to open at all and give you the following message:

Krisp can't be opened because Apple cannot check it for malicious software.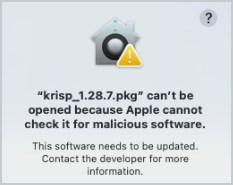 In order to fix the issue, navigate to System Preferences > Security & Privacy > General and choose "Open Anyway" for Krisp.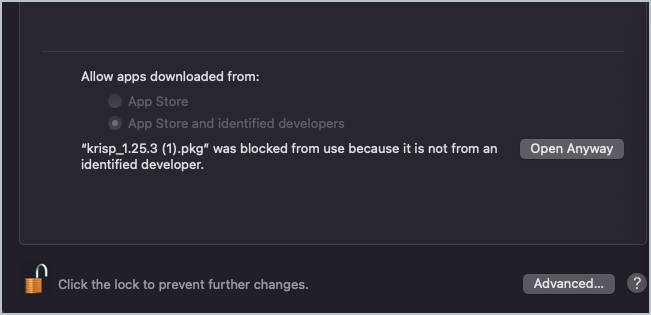 Sometimes you can receive the following error:
The installer encountered an error that caused the installation to fail. Contact the software manufacturer for assistance.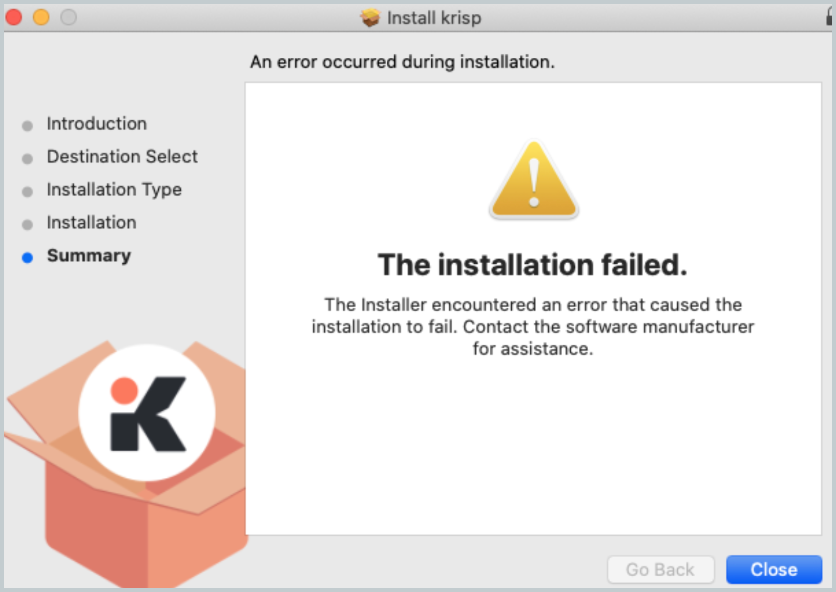 This means that the installer package was damaged in the downloading process. There can be various reasons for that such as an unsupported Mac version, a corrupted installation package, or something different.
Restart your Mac and try the installation again.
Check if your Mac meets

Krisp System requirements

.
If these steps didn't help, try re-installing the app with the following process:
Remove the latest downloaded installer package (it will most probably be in your Downloads folder).
Download the latest installation package from your web account and re-install it to ensure you have a non-corrupted file.
There can be cases where you might get another installation issue on Mac. For troubleshooting contact our support at support@krisp.ai and after reproducing the installation issue, send the following file:
open the Finder, click Cmd+Shift+G, and paste /var/log/install.log.
Our support team will check the installation file and reach back with solutions.