The Talk time indicates how long you have been talking during the current call. The information is shown on the Krisp widget when there is an active call. Along with it, you can see how long the call lasts and the percentage of your talk time during it in real-time.
The In use duration indicates how long your current call lasts. It starts to be counted when the Krisp Microphone is used in any communication application. The counter stops when the call ends or if you deselect Krisp Microphone from the communication app settings.
You can use the Krisp Microphone with several applications at the same time. In that case, the In use duration will showcase the period between the first app starting to use the Krisp Microphone and the last app stopping using it.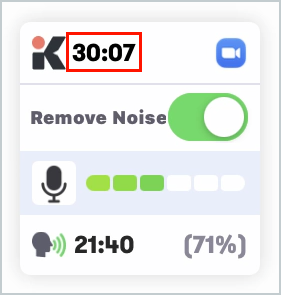 The Talk time starts to be counted when the Krisp Microphone captures your voice. It pauses when you stop talking and goes on as you talk on.
Note: If another person talks next to you and the Krisp Microphone captures their voice, it will still be counted as your Talk time.
To have more accurate results about the Talk time, it's better to turn on the Noise Cancellation toggle for the Krisp Microphone. That way, no captured noise will be accidentally counted as your Talk time.
Note: The Krisp echo cancellation will prevent the other call participants' voices from being captured by Krisp Microphone and added to your Talk time. To have echo cancellation, make sure to select the Krisp Speaker in the communication application as well.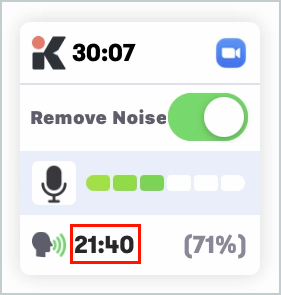 Talk time in the muted state
If you mute yourself from the Krisp app or the Krisp widget, the Talk time counter will stop.
If you mute yourself from the communication app, the Krisp Microphone will go on capturing your voice and the widget will go on counting your Talk time.


The Talk ratio shows the ratio of your Talk time compared to the In use duration.
Talk ratio = Talk time * 100% / In use direction