Who can use this feature?
Users: users on all plans
Platform: Win, Mac
Admin control: Enterprise plan
This article tells you how to connect to Zoom Rooms while you use Krisp and how the Noise Cancellation works with that app.
You can pair your Zoom application with the nearby Zoom Rooms equipment in 3 different cases.
Share your screen to Zoom Rooms without having an active call.
Share your screen to the Zoom Rooms screen while there is an ongoing call on it and you are not connected to it with your computer.
Start a Zoom Rooms meeting from your computer.
For all three cases, click on the Pair with Zoom Rooms icon in your Zoom app to start the pairing.

For the first two cases, the pairing can also happen with the Share Screen option.
The process happens through an ultrasonic signal that the Zoom Rooms equipment transmits.
Important
On Windows, if you have Krisp Microphone selected in your Zoom app, you need to follow these steps to allow the pairing to take place:
Go to Krisp Preferences >>> Voice
Check the Allow connection to conference room equipment box.


Otherwise, Krisp will cancel the ultrasonic along with the noise and hinder the pairing process.
Note that ultrasonic signal detection is available from Windows 1.38.3 to 2.0.0.
To have Noise Cancellation with Zoom Rooms, you first need to install Krisp on the PC/Laptop connected to your Zoom Rooms. Check this article for instructions.
Once you have Krisp on Zoom Rooms, you need a two-sided configuration.
Select Krisp Microphone and/or Speaker to work in Zoom Rooms. For that, go to Settings on the Zoom Rooms controller device, and change the Speaker/Microphone to Krisp.

In the Krisp settings, pick the physical microphone and/or speaker working with your Zoom Rooms equipment. Make sure that the Noise Cancellation toggles are turned on.

Start your noiseless call.
Hint
Consider disabling all the notifications from
Krisp Preferences
>>>
Notifications
for a smoother experience with Zoom Rooms.
For the team members, who are using Windows devices, the Allow connection to conference room equipment option in the Krisp Preferences will be off by default.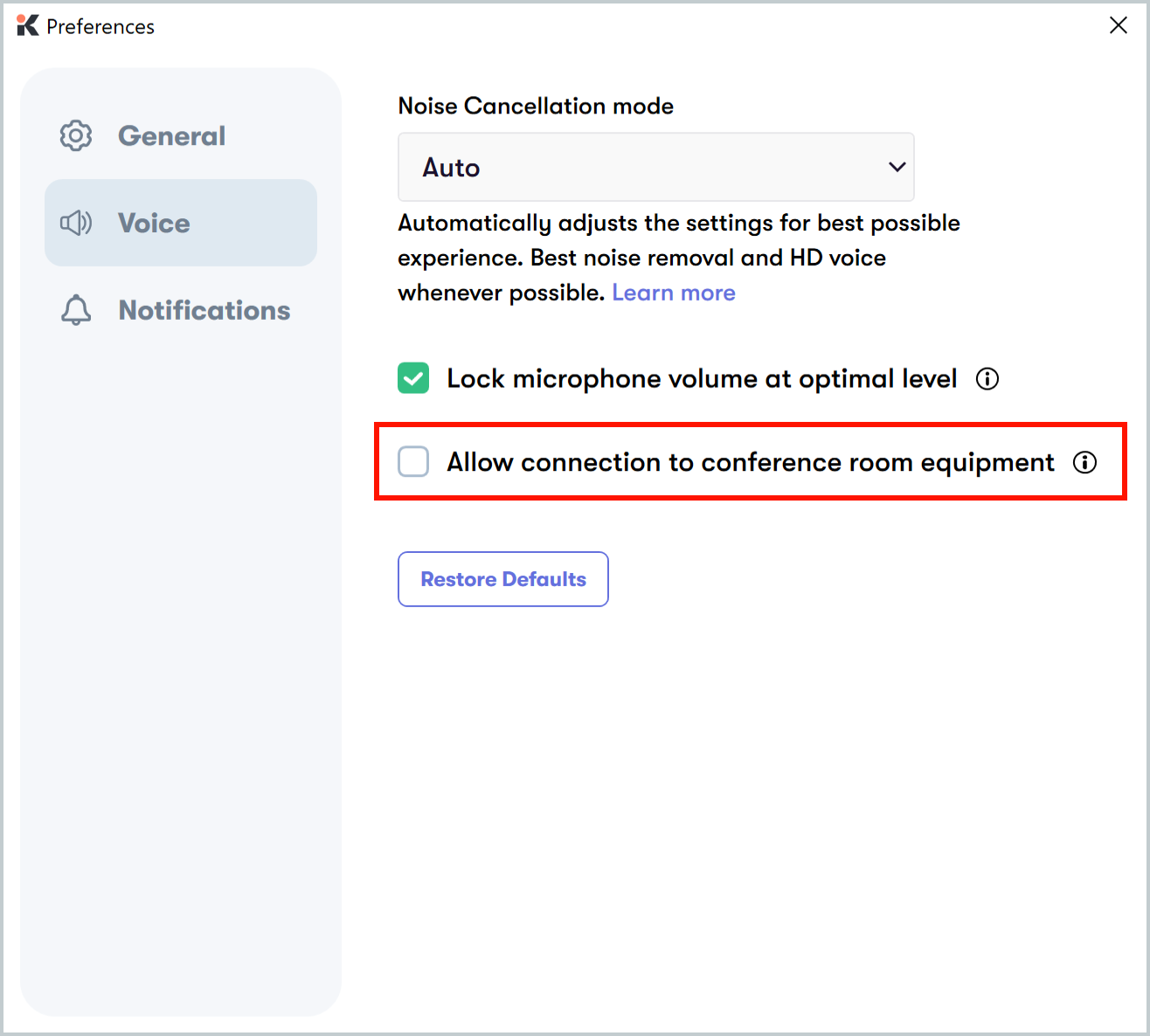 If you want the ultrasonic signal detection option to be enforced for the team members:
Go to your Krisp Admin Dashboard >>> Settings >>> Setup >>>System Preferences.

Check the Set Zoom Room signal detection for conference rooms checkbox.
This way, your team members will easily pair Zoom with Zoom Rooms while using Krisp.