Who can use this feature?
Users: users on all plans
From version: Mac 1.40.11, Windows 1.41.4
Admin control for the feature: from Business Plan
This article refers to the Background Voice Cancellation feature. To learn more about the feature, check out this article.


Background Voice Cancellation is compatible with most headset devices. To ensure the best results, we recommend using a headset device with the following parameters:
Wired USB headset device.
Headset device with external boom microphone. A boom microphone allows precise positioning next to the user's mouth because the microphone is attached to the end of a boom.
If you are not using a device with the recommended parameters, you can still use other headset devices, such as:
Bluetooth headsets
Headsets with on-device boom microphone
Headsets with mid-length boom microphone
But the requirements mentioned above guarantee the best results.
Info
We are working on expanding the requirements for compatible devices to include more devices over time that ensure the best results.
Krisp will automatically detect when your headset is compatible with Background Voice Cancellation and activate it. You will see the Background Voice Cancellation icon next to the compatible device: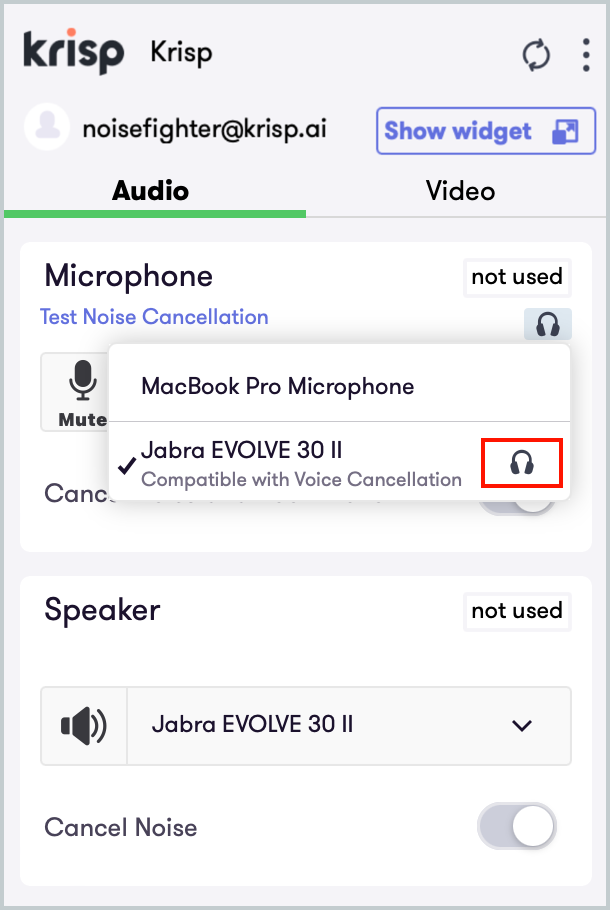 If your device isn't compatible with Background Voice Cancellation or hasn't been automatically recognized by Krisp, you will see this icon on the app UI: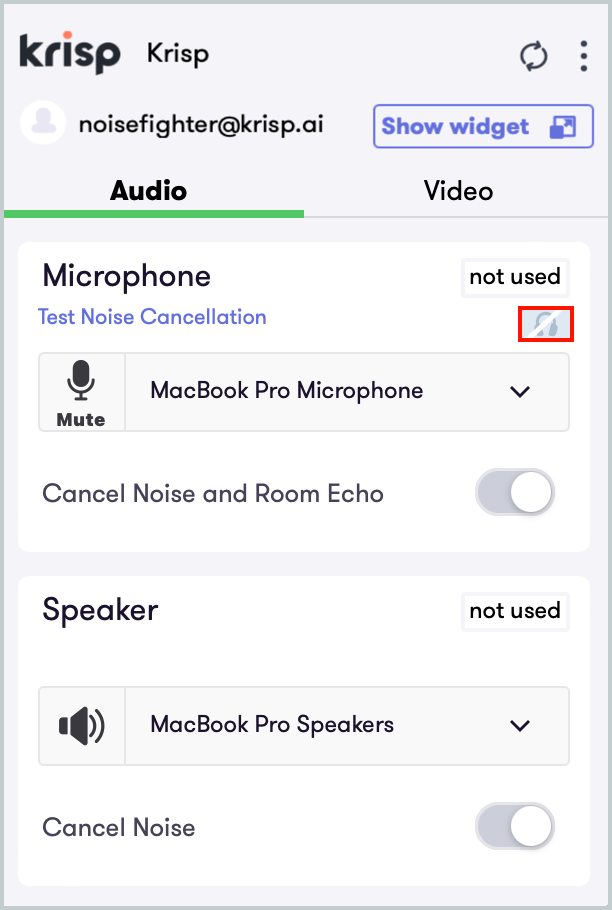 To check if manual activation is possible for your device and enable it, go to Preferences >>> Audio and check the Force activation box next to your device name.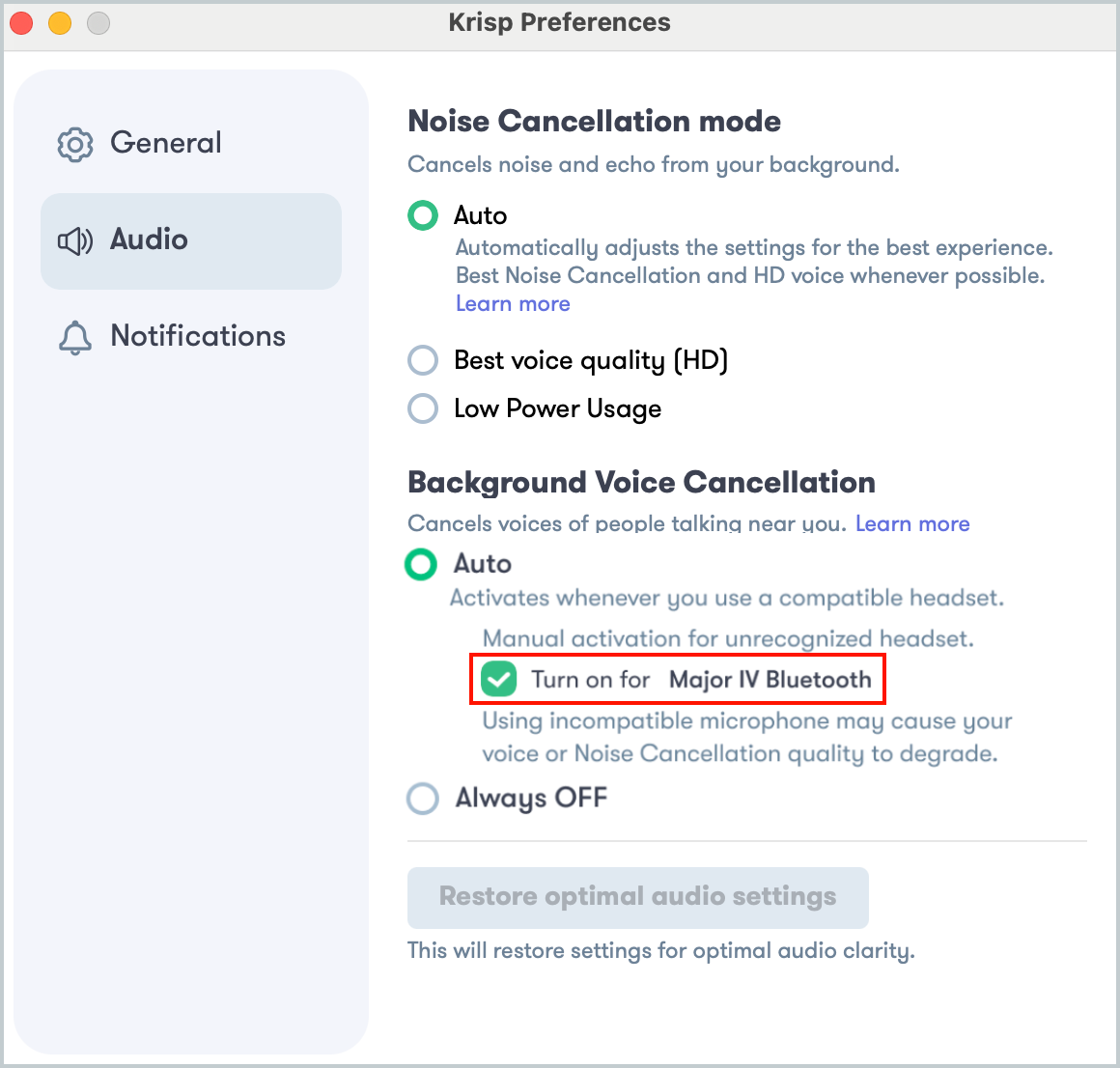 Important
When using unrecognized devices with Background Voice Cancellation, the quality of voice or Noise Cancellation may be degraded.
As part of the Background Voice Cancellation feature rollout, the following list of devices has undergone extensive testing. These devices are approved to provide prominent results when used with Background Voice Cancellation.
Jabra Evolve 20
Jabra Evolve 20 MS mono
Jabra Evolve2 40
Jabra Evolve 80
Jabra Engage 50
Jabra BIZ 1500
Logitech H340
Logitech H390
Logitech H540
Logitech H570e
Logitech Zone Wired
Logitech G Pro X
Plantronics Blackwire 3220
Plantronics Blackwire 5220
Microsoft Modern USB Headset
Sennheiser SC30
Sennheiser SC60
Info
We are constantly testing and evaluating additional headset models and the list will be updated as new devices are approved.
As a team admin, you can select the Background Voice Cancellation state for audio devices used by your team members.
To access the list of devices used by your team members, go to Team Settings >>> Audio Devices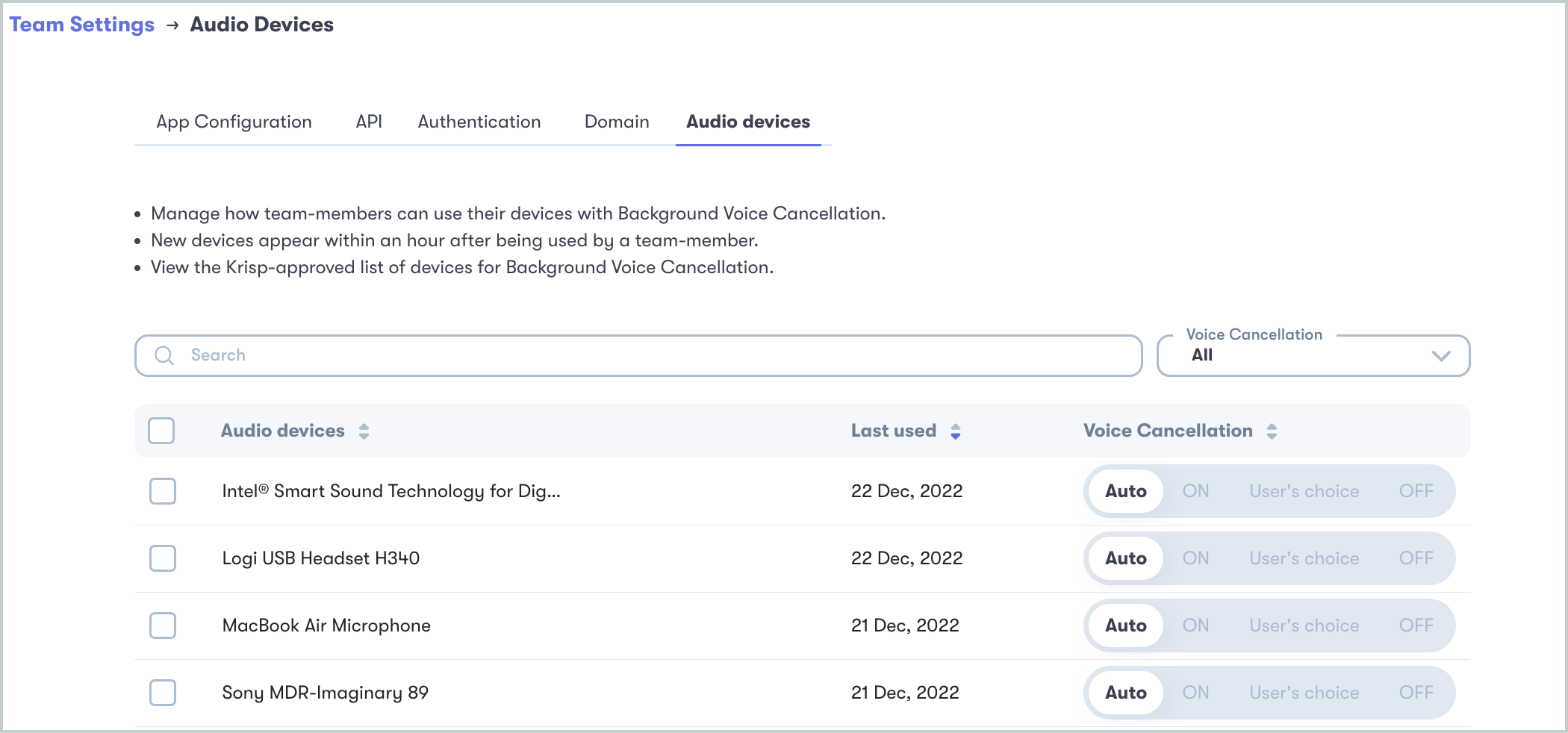 The default state of all audio devices is Auto.
Audio devices will perform coherently with the Krisp-approved list of devices for Background Voice Cancellation. As soon as you change their states, your team-level choice prevails.
You may manually change the Voice Cancellation state to:
ON: This will force ON the feature for a specific audio device.
User's choice: The feature will be OFF by default unless the user manually turns it ON from Krisp app preferences.
OFF: This will force OFF the feature for a specific audio device.
It can take up to 6 hours for the settings changes to reflect in the app. Alternatively, users can restart the Krisp app to see the settings change immediately.
For your convenience, you may perform Voice Cancellation state changes in bulk: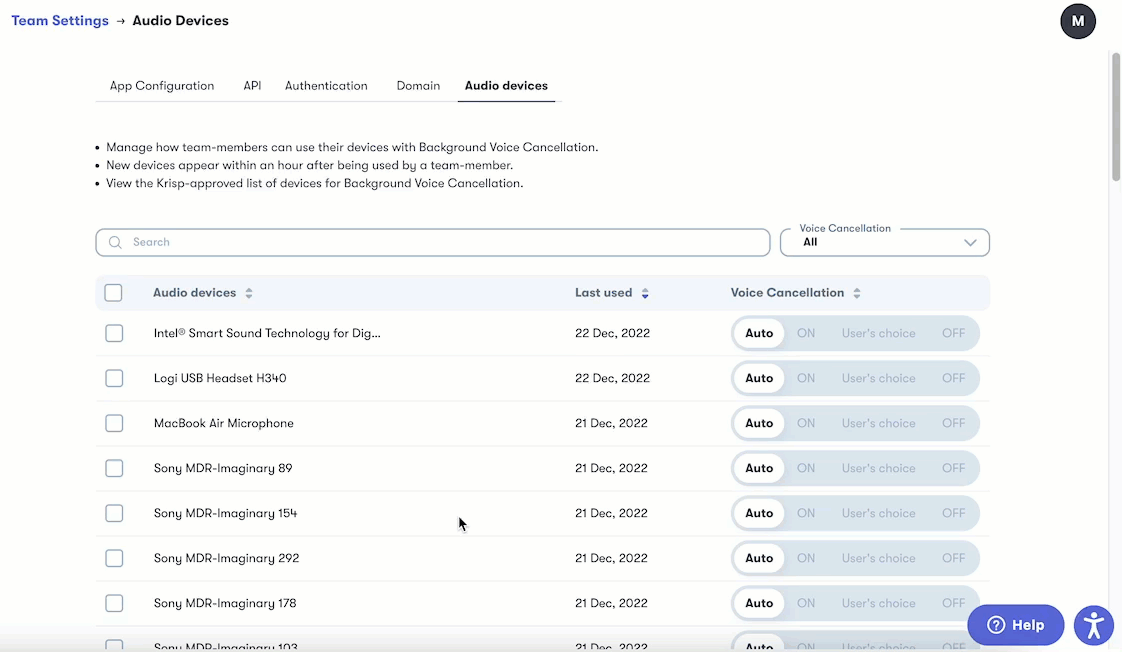 Hint
With this feature, you will be able to turn on Background Voice Cancellation for all team members using USB-connected headsets. Or, you can set User's Choice for built-in devices, so when using devices connected with a 3.5 mm jack, users can manually turn the feature ON.